Where travel agents earn, learn and save!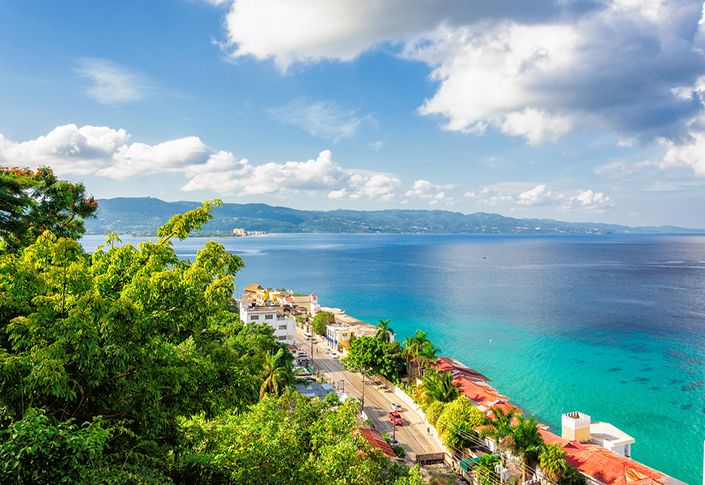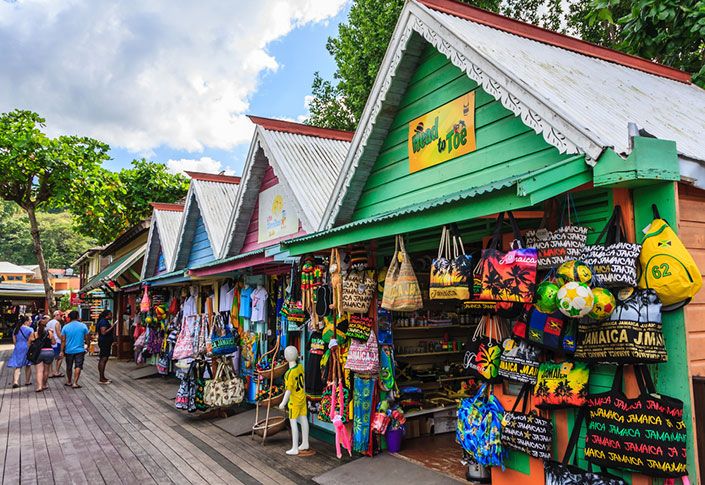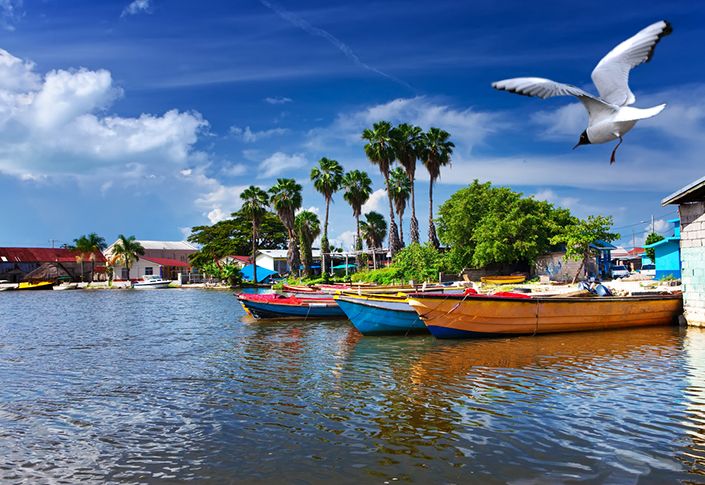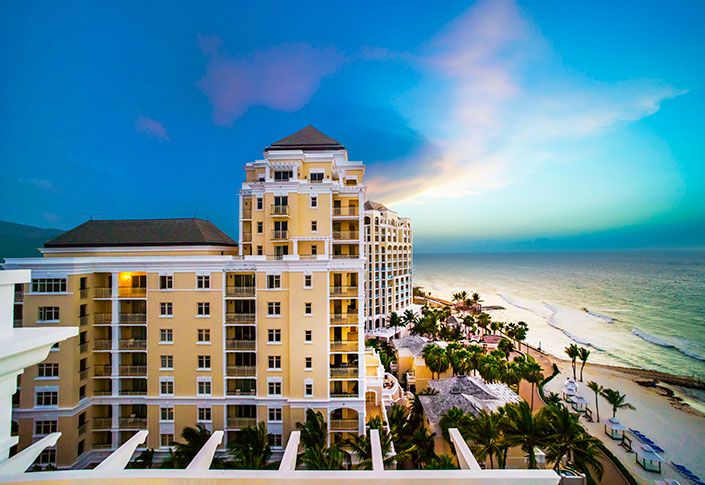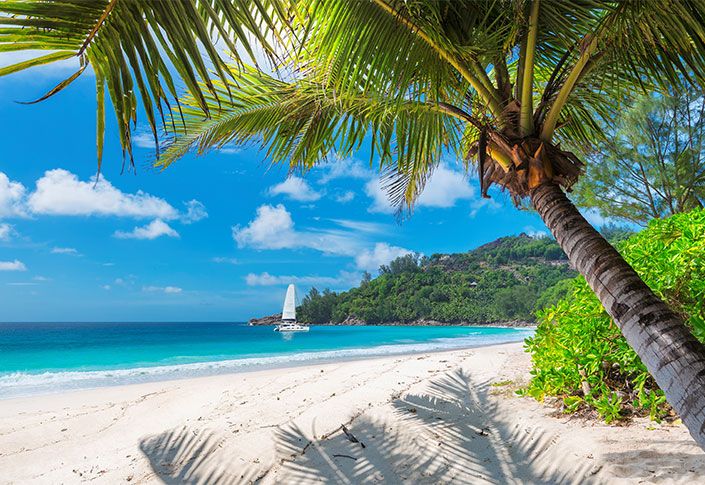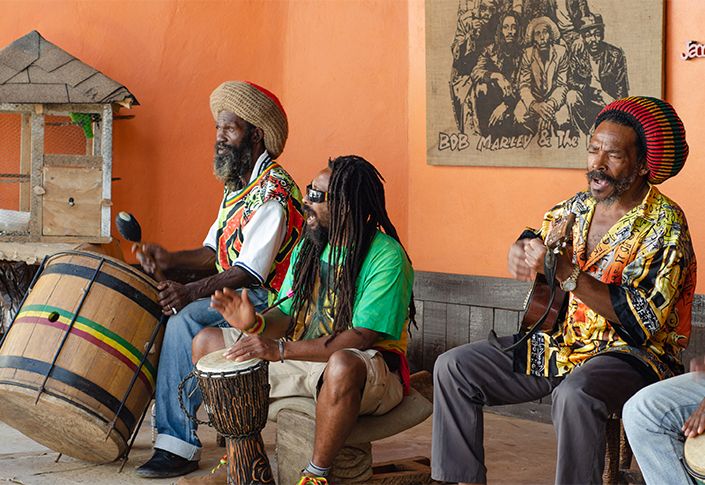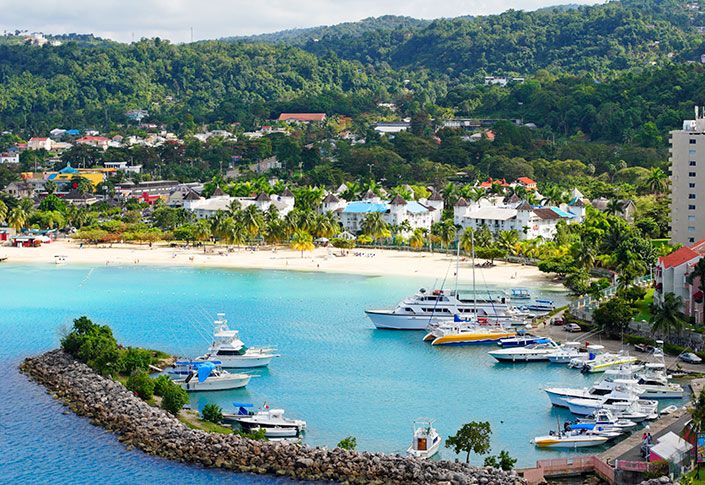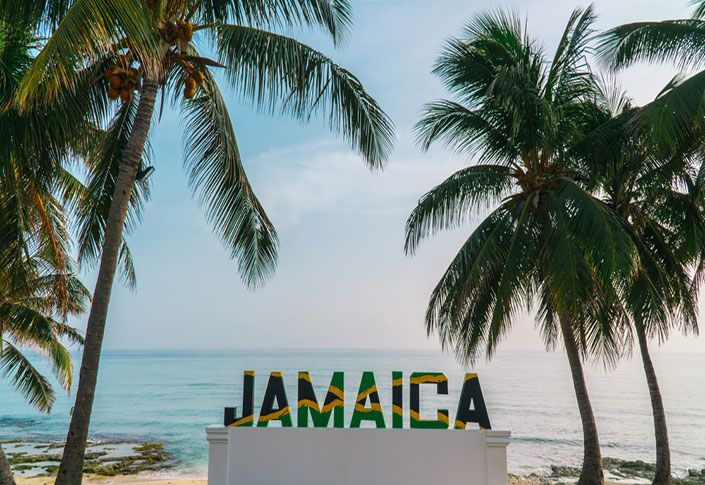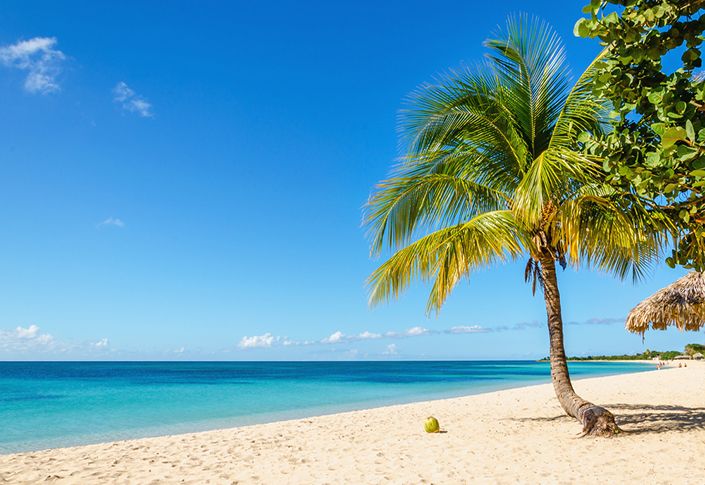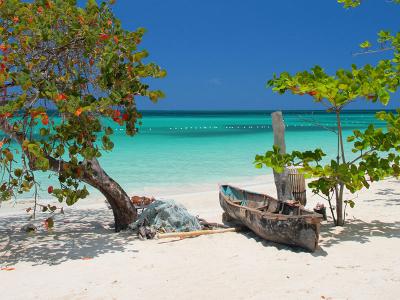 From each morning's glorious sunrise until the sea swallows the sun at night, Jamaica presents a magnificent palette of colour, a kaleidoscope of beauty that makes the island the most precious jewel in the Caribbean. Jamaica is a land of unique experiences, engaging activities, breathtaking landscapes and a warm, welcoming people. No place on earth provides the range of attractions and the cultural diversity that can be found here. No place on earth feels like it. No place on earth shines like it. Jamaica, the Home of All Right.
Airports in Jamaica
1. Norman Manley International Airport Located in Kingston, use this airport if you're visiting the capital city, Port Antonio or heading to the beautiful Blue Mountains. Efficient transport can be arranged to take you to the domestic airport in Kingston, Tinson Pen, where flights are available to other parts of the island.
2. Sangster International Airport Located in Montego Bay, the most tourists land. It's the better port of entrance if you're headed to Montego Bay, Ocho Rios or Negril. In addition to international terminals, this airport has a domestic terminal with local flights that depart regularly to Kingston, Negril, Port Antonio and Ocho Rios.
3. Ian Fleming International Airport Jamaican newest international airport, the Ian Fleming International Airport, is located in the Ocho Rios resort area. It is a convenient entry point to Jamaica's north coast for small aircraft.
VIP Airport Services
Start your dream holiday in style with fast track and personalized VIP Meet & Greet services at the Norman Manley International Airport in Kingston (KIN) and the Sangster International (MBJ) in Montego Bay. With complimentary WiFi service, refreshments and free telephone calls to the USA, Canada and UK landlines, you'll already feel Jamaica's warm hospitality.
Domestic Flights
Domestic airlines land at the international airports in Kingston, Montego Bay and Ocho Rios, as well as smaller aerodromes in Kingston, Portland, Ocho Rios, the South Coast and Negril. When using chartered helicopter services, arrangements are made through the company to land at your desired destination.
Public Transport
For traveling between towns, minibuses are the way to go, and certainly make for an interesting experience. But prepare to compete for a seat with luggage of varying sizes and contents. Each town has a designated bus park, and although the destination stands are rarely marked, the conductor will find you. Keep your luggage close to you, and be sure to check fares and destination with the driver before you board. A "route taxi" has a designated course, pick-up and drop-off zones. They are the cheapest and fastest way to get from place to place, and always one just around the corner. Just stick out your hand, and wave. The Knutsford Express offers daily scheduled service to all the island's resort areas. The daily service covers Port Antonio, Kingston, Mandeville, Negril, Montego Bay and Ocho Rios. Comfortable, air-conditioned coaches with luggage compartments are the standard. Complimentary bottled water, free wi-fi and restrooms are just a few of the amenities.
Travel in Style
Jamaica offers a range of carriage operators that are equipped with a fleet of well-maintained, air-conditioned cars, buses, coaches and luxury vehicles, each piloted by friendly and experienced drivers. Drivers will not only provide you with a stylish and relaxing trip, but also one full of trivia. From the history and culture, to flora, fauna and other local facts, drivers have been on seminars to be able to act as your tour guides too. They'll even stop along the way to show you scenic spots, fruit stalls and popular restaurants - all allowing you to experience local delicacies, beverages and vistas firsthand. All of Jamaican approved tourist transportation drivers bear a Jamaica Tourist Board (JTB) identification tag. Furthermore, all approved vehicles must adhere to strict standards, undergoing regular road fitness tests.
Rentals
The most important thing to remember is that Jamaicans drive on the left-hand side of the road. On the island, quite often you'll share the fast lane with goats, stray dogs, a whole variety of vehicles of all shapes and sizes and a generous helping of our infamous potholes. Another thing to note is that they use car horns more than any other country in the world. From a slight beep that says "hello," two toots meaning "thank you" and a blaring horn telling you "to get out of the way" you'll find that more often than not, your driving soundtrack is made up of hoots. Should you get lost and need directions, any of our locals will be happy to help you out.
Spoken Language
Currency used in Jamaica
Jamaican dollar although US currency is taken in some places. Licensed cambio centers and commercial banks are accessible in all resort areas. Most Jamaican ATMs accept international bank cards with Visa, MasterCard, Cirrus and Plus logos. Banks also give credit card advances, change traveler's checks among other financial services.
Sangster International Airport
• Montego Bay
• Website mbjairport.co
• 1 876-952-3124
Norman Manley International Airport
• Kingston
• Website nmia.aero
• 1 876-924-8452
Ian Fleming International Airport
• St. Mary
• Website ifia.aero
• 1 876-975-3101
Jamaica Customs
• Website jacustoms.gov.jm
• 1 876-952-2469
Jamaica Immigration
• Website pica.gov.jm
• 1 876-952-2469
Canadian High Commission, Kingston
• 1 876-926-1500
Canadian Consulate, Montego Bay
• 29 Gloucester Ave
• 1 876-952-6198
Jamaican Consulate Toronto
• Website jcgtoronto.ca
• 1 416-598-3008
Jamaican High Commission, Ottawa
• Website jhcottawa.ca
• 1 416-233-9311
Jamaica Tourist Board
• Montego Bay
• Website visitjamaica.com
• 1 876-952-4425
Government of Jamaica
• Website jis.gov.jm
Jamaican Phrases:
• You have red eyes - someone who wants everything they see. Like a kid asking his mom to buy lots of toys for him in the toy store. His mom would say, Johnny your eyes are too red!
• I see you in the light - I will see you tomorrow. Two friends upon parting would say, bye bye Johnny, I will see you in the light
• All fruits ripe - meaning everything is going well. How is work Johnny? All fruits ripe Mom
• Big up! - Meaning to give praise, to congratulate. Johnny won his race today - big up Johnny! Meaning congratulations Johnny!
• Let's run a boat- meaning, let's have a pot luck. "Run a boat" in Jamaica means everyone bring something and we have a group meal
• Can you do the butterfly? In Jamaica, butterfly is a popular dance move
• Chill out - means to relax, take a break
• Cook and curry - meaning everything is fine. How are things Line? Everything cook & curry Dan!
• Festival - is a fried sweet dough in Jamaica
• In Jamaica, "herb tea" means laxative
• Ice box means refrigerator
• Jelly mean coconut
• Johnny cake is a fried dumpling
• Kiss mi neck - is not a command for affection, it is an expression of surprise. As in when you get some shocking news, you say, Kiss mi neck!
• Main squeeze - meaning your boyfriend / girlfriend (romantic)
• Manish water - a popular goat soup
• Robot in Jamaica means an illegal taxi operator
• Soon come - I will be there shortly but with no specific time in mind!
• Where is your old lady - means, where is your mother! Johnny , is your old man at home? Meaning, is your father home
• Johnny, you are trash today!! Meaning, Johnny, you are in a very nice outfit today!
• Wheel and come again! Means to repeat whatever you just said
• In Jamaica, an igloo is a cooler. Even though igloo is the brand, Jamaicans call all coolers igloo, regardless of the brand
• Jamaicans call all diapers, pampers!
• Jamaicans use the word pass as Canadians would use the word give. So a Jamaican would say, please pass me the pencil, while a Canadian would say, please give me the pencil
World to the Wise
No matter where in the world you're traveling, it's important to read the news, stay safe, travel in groups when you are unsure of where you're going, and keep an eye on your property at all times. Here are some tips to make your Jamaican vacation safe and fun:
• Make sure you travel with a valid passport or visa (if required). Also, bring another valid form of photo I.D., and photocopies of both I.D.s. in case of loss or theft
• Read up on local laws and practices before you get here
• Give friends and family your contact information and itineraries in case of emergency
• Register with your country's embassy or consulate before you travel. That way your country is aware of your whereabouts in case of emergency
• Keep luggage, handbags or backpacks in view at all times
• Keep possessions close to your body
• Don't take around large amounts of cash
• Avoid wearing expensive jewellery on road trips or excursions
Entry Requirements
Entry requirements differ for travellers depending on your country of citizenship and/or residency.
U.S. Citizens traveling to and from Jamaica must present a valid passport when leaving and or re-entering the United States. Residents must present their Alien Resident Card (Green Card) together with passport of country for which they hold citizenship.
Canadian Citizens: Valid passport or a government-issued identification with photograph, along with an official birth certificate. Canadian residents must present a Canadian Permanent Resident Card and a passport showing country of citizenship.
All visitors are required to travel with a return ticket or onward ticket for entry into Jamaica.
For more information on the specific documents needed to travel to Jamaica visit the Travel Documents page on the Passport, Immigration and Citizenship Agency's website Visitors traveling via airlines can also go to www.iatatravelcentre.com to review travel document requirements.
Need to Know
Climate: Jamaica enjoys a hot and humid tropical climate all year round, which is exactly what you want for a relaxing vacation. Temperatures range from 19°C (66°F) to 32°C (99°F).Rainy seasons: May to June, and September to November. Hurricanes may pass over the island during the months of June to November.
Clothing: Lightweight, breathable fabrics are the way to go on the island. Shorts, swimwear and flip flops keep you chilled on our beaches. A thin sweater will keep you cozy in the evenings. And semi-casual wear for women, and a jacket for men, will get you into all of our fine dining restaurants.
Communications: Jamaica is well connected to the rest of the world. Direct international telephone service operates in all areas, 24 hours a day, and telephone operators will gladly facilitate collect, third-party or credit card calls. E-mail and Internet access is available too. Three daily newspapers and five weekend newspapers will keep you in the know, while some hotels and gift shops receive the international editions.
Driving: Jamaican drive on the left side of the road. The speed limit is 50 kmph (30 mph) in built-up areas, and 80 kmph (50 mph) on highways, and all drivers are required to carry a valid license. Jamaica recognizes valid International Driver's Licenses, but visitors from North America may use their country's license for up to three months per visit. Car rental is available in most major towns, cities and airports, but you can be no younger than 25 years old to hire a car yourself.
Electricity: The electrical supply in Jamaica is 110 volts/50 cycles standard, and electrical appliances use plugs that are two-pronged and flat (such as those used in the United States and Canada).
Language: Official language is English but Jamaican like to mix it up with their own island version of patois.
Pets: In keeping with international standards, the importation of all live animals into Jamaica requires an import permit from the Veterinary Services Division of the Ministry of Agriculture, prior to arrival in Jamaica.
Time Zone: Jamaica falls within the Eastern Time Zone (UTC/GMT -5 Hours) and does not observe Daylight Savings Time. Water: Jamaica has hundreds of natural springs and rivers, both above and underground.
Water: Jamaica has hundreds of natural springs and rivers, both above and underground. Over the years, they have developed extensive water treatment and supply systems island-wide, so all drinking water in Jamaica is purified and filtered by modern methods. Our water is safe to drink, clean your teeth, bath and wash clothing in.
Apartments
If you're the kind of person who likes to be spontaneous, do your own thing and take the island in your stride, then think about hiring one of Jamaican many fully equipped, self-catering apartments. View a range of apartments here.
Villas
Jamaica is an island that really values friends and family getting together, cooking up a hot-pot of delicious jerk chicken and enjoying quality time on the island of All Right. If this also appeals to you, check out their gorgeous villas here.
Guesthouses
Jamaica is so fond of their visitors and like to keep them coming back for more of All Right. That's why they've made their guesthouses are some of the best in the Caribbean. There are few other places you will find on your travels where the people are as friendly, the service is as warm and the beds are as comfortable. View all guesthouses here.
Hotels
Take some real time-out at Jamaican island hotels. After a long day on the beach, riding the waves, exploring the markets or simply soaking up the sun, there is little better to look forward to than the cool, air-conditioned comfort of a pristine hotel suite.See hotels here.
Tours
Come alive and discover the island on the various tours in all Jamaican regions:
• Adventure Tours
• Cultural Tours
• Historical Tours
• Plantation Tours
• Harbor Cruise Tours and more
Attractions
Let Jamaica proudly show you around their home. From the coffee factories rich with the scent of Arabica beans to rum distilleries and rainforest drives - see Jamaica through their eyes. See all attractions here.
Top Beaches in Jamaica
From long sandy stretches to crystal clear water and secret coves, Jamaican beaches are where you start your holiday and make memories to last a lifetime. Check out these top beaches in Jamaica:
• Bamboo Beach Club
• Dunn's River Falls and Park
• Jimmy Buffet's Margaritaville Ocho Rios
• Margaritaville Montego Bay Limited
• Doctor's Cave Bathing Club
• Margaritaville Negril
• Long Bay Beach Park
• Rio Nuevo Village
Dining
Jamaica is an exotic destination for any foodie, especially one with an experimental palate, and a feeling for style. Their hybrid blend of worldly flavors with indigenous spices will introduce your taste buds to festive Caribbean fare. Where 5 star menus meet rustic island spices, brace yourself for an eclectic dining opportunity you can only experience in sweet Jamaica. See a list of all restaurants here.
Golf
Practice your swing, caddy up for a full 18 or sit back and relax on the 19th. There's a course for every player:
• Cinnamon Hill Golf Course
• Runaway Bay Golf Club
• Sandals Golf & Country Club
• Caymanas Golf Course
• Negril Hills Golf Club
• Half Moon Golf Club
• Manchester Club
• The White Witch Golf Club
Nightlife
Imagine the strains of Reggae beats or the pulse of Dancehall rhythms, on the beach or in the streets - from dusk till dawn. Welcome to Jamaica's nightlife - come and get your groove on:
• Jimmy Buffet's Margaritaville Ocho Rios
• Margaritaville Montego Bay Limited
• Pier 1 on the Waterfront
• Margaritaville Negril
Shopping
It's true what they say. Jamaica has its own style. Find it at marketplaces, malls and stalls so that even when you return to reality, a bit of the island can live on with you. View shopping places here.
Events
When you have like-minded folks in one place, at one time, listening, tasting and sharing a love of something, you truly get that feeling of All Right. Be it a reggae concert, food festival, marathon or bridal show, come join Jamaica for one of our special get-togethers and celebrate the good times. View event Jamaican event calendar here. Welcome to the island of One Love where we specialize in turning big dreams into romantic realities.
Getting Married
Why in Jamaica? It's easy to see the appeal of getting married in a tropical paradise; warm waves, dreamy beaches and sunsets more romantic than you can imagine. Your clients should say I Do in Jamaica. Here's why: 1. It's private. If you're looking for a meaningful time away with your special someone and those closest to you, escaping to the island of All Right is the way to go. 2. Jamaica is prepared for your clients' wedding. Being one of the most romantic spots on earth means that we know exactly what's needed to make their dream day, come true. 3. It's a wedding and honeymoon, all in one. Make your clients dreams come true when extend ing their wedding into an adventurous, romantic and luxurious honeymoon, starting your lives together in pure bliss.
Jamaican Law: Visitors can be married 24 hours after arriving in Jamaica, providing prior application has been made for a marriage license to the Ministry of Justice. The application must be submitted to:
• Permanent Secretary
• Ministry of Justice
• NCB Towers
• 2 Kensington Crescent
• Kingston 5
• JAMAICA
Documents: Unlike many countries, Jamaica does not require a blood test before getting married. However, the following documentation is required:
• Proof of citizenship - certified copy of birth certificate, which includes father's name
• Parent's written consent if under 18 years of age
• Proof of divorce if applicable (original certificate of divorce)
• Certified copy of death certificate for widow or widower
Special Note: All documents that are not issued in English must be translated by an Official Translator and subsequently certified by the Ministry of Foreign Affairs of the country of residence and by the nearest Jamaican Mission or Honorary Consulate.
Processing Fee: The processing fee for the Marriage License is Four Thousand Jamaican Dollars (approximately US$50.00). The marriage license is valid for 3 months and the application is a same day process. For more details about obtaining a marriage license visit: moj.gov.jm
Wedding Resources:
Let Jamaica help you organize your clients special celebration with professional advice and creative ideas. Start planning your wedding or honeymoon in paradise. Find all resources here.
Wedding Concierge:
Planning destination wedding or honeymoon on the island of love is no problem. Just ask Wendy, Jamaican local Love Guru; she'll make sure the whole process is simple, yet everything you've ever dreamed, and more. Contact Wendy here.