Where travel agents earn, learn and save!
News /

Groups plan ahead, but leisure travelers book last-minute
Hoteliers set strategies for walk-ins, cancellations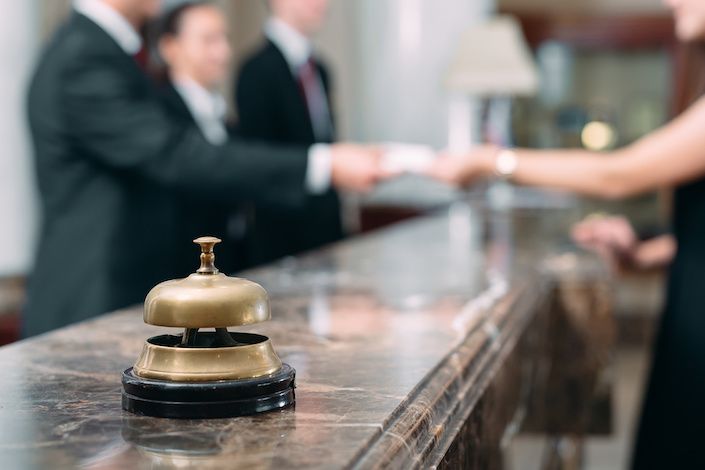 By Dana Miller
Hotel News Now
Guests increasingly are booking hotel rooms closer to the date of their stays, including via walk-ins with no notice, forcing hoteliers to be more flexible and plan ahead to manage last-minute demand.
Hotel News Now reached out to hoteliers across different markets and hotel types to gauge successful strategies being implemented to capture demand.

Sereno Hotels
Samy Ghachem, managing director at Sereno Hotels, which has luxury properties in Lake Como, Italy, and St. Barths, said in an email interview that current booking trends "give a whole new meaning to 'more last-minute."
Bookings across the properties are coming in anywhere from one month out to, more often, one to two weeks and even one to two days out, he said.
Additionally, his hotels are experiencing an increase in walk-in bookings, which staff must be well-positioned for at all times.
"We are also seeing changes in plans or schedules. So, any cancellations are quickly refilled. We are offering more flexibility with reservation system parameters to tighten or loosen minimum-stay requirements, package validity or pricing as needed," Ghachem said.
The Rose Hotel
The Chicago O'Hare market has had strict vaccination mandates in place until just a couple of months ago. Since then, The Rose Hotel Chicago O'Hare, about two miles from the airport, has experienced a "heavy uptick in leads" for group bookings, Emily Likosar, director of sales and catering for The Rose Hotel, said via email.
Bookings for the past two months have been at or near pre-pandemic levels.
Likosar said small groups of less than 15 attendees are trending toward a shorter booking window with the majority of bookings coming in about two to four weeks in advance.
Larger groups, however, are booking two to four months out.
"We are still seeing a good portion of these meetings having a virtual component," she said.
The Rose Hotel protects its inventory for multi-day meeting opportunities as much as possible until they are inside one month from arrival.
"We are regularly monitoring market conditions and pricing groups accordingly. Generally, the further out a group books, the more favorable our rate offerings," she said.
The hotel will call in additional staff to help on days when there's a surge in transient reservations and shuttle demands from flight cancellations.

Main Street Hospitality
John Harrison, regional director of sales for Main Street Hospitality, a collection of hotels in the New England region of the U.S., said short-term bookings are trending for both group and leisure guests.
The booking window for groups is at about 90 days out, he said. However, because of such high demand causing a lack of available hotel space, some groups are now looking out a little bit further into the fall.
"We are seeing it mostly in the year for the year right now," he said. "There is some incentive business that's coming back and that is a little bit more lead time, so we are seeing some early stages of 2023 bookings, which is new from the past couple of years."
In terms of transient leisure, Harrison said many of Main Street Hospitality's properties continue to benefit from drive-to demand. This has resulted in a pickup in bookings within seven to 14 days.
"We could see a hotel at 70% occupancy in Newport, but within 14 days people are looking at the weather or planning short term, then we'll see pickup [in bookings] and sell out the property within that seven- to 14-day window," he added.
Leisure guests typically stay from Thursday to Sunday, while corporate business is Monday through Thursday, he said.
However, Harrison noticed a trend of some leisure travelers lengthening their stays, which his team is able to incentivize and encourage. The average length of stay is typically two nights. In the summer, Main Street Hospitality's properties run a promotion with discounts increasing based on length of stay.
In terms of marketing, Main Street Hospitality has rolled out is a website that's dedicated to a fully curated three-day itinerary for corporate groups who book at its Hammetts Hotel in Newport, Rhode Island.
The site was developed with Newport's destination marketing organization as a response to many companies eliminating meeting planner and executive assistant positions, making it more difficult for them to plan meetings and events for their corporations.

Sable at Navy Pier
The Sable at Navy Pier in Chicago has experienced a major shift in the past 60 days with leisure guests starting to book further out, said Matt Kiedrowski, the hotel's director of revenue generation.
Within that time frame, the hotel's leisure travel guests booked 42% of their room nights within 14 days of arrival. Booking windows are commonly 31-plus days out, or eight to 14 days out, whereas in the fourth quarter of the year it was one to three days, he said.
The corporate booking window is 21 to 30 days out at best. Group bookings, however, vary depending on size.
"Currently midsized to smaller-sized corporate groups are booking extremely short term with several bookings happening within 21 days out. Large corporate group booking windows have been mixed. The leads for larger-sized corporate groups are being sourced further out. However, there is still some hesitancy to sign for major programs due to COVID concerns/economic concerns/global conflicts," he said.
Kiedrowski said hotels used to focus on year-over-year trends to help forecast and make strategic decisions. However, COVID-19 has changed that behavior "as we now look at more micro movements — week over week, month over month," he said.
He advises hotel leaders to trust the most recent trends and use the data available to make the best decisions for revenue strategy and forecasting this summer.
"Lean into the demand," he said.
The Chicago market is currently outperforming pre-COVID-19 average daily rates. Hotels in the market are still able to hold rates in the short term, Kiedrowski said, which is a win "as the one- to three-day booking window used to be a race to the bottom in terms of pricing before COVID," he said.

Conrad Maldives Rangali Island
Booking lead time over high-demand seasons vary by the source of business at the Conrad Maldives Rangali Island, Commercial Director Jad Frem said via email.
"Wholesale lead time tends to be shorter at two months out. In contrast, non-trade transient leisure is anywhere from 2 1/2 months in lead time to over four months," he said.
His team constantly optimizes lead-in availability during peak seasons, keeping a higher minimum length-of-stay requirement for its villas.
"This is done to prevent all lead-in villas from getting booked too quickly by Hilton Honors guests who use points to redeem and book their stays with us, as they tend to book much further out than wholesale and other sources of transient business," he added.
During the Maldives' Festive season — around Christmas and New Year's Eve — his team incorporates a similar length-of-stay policy for its villas with two bedrooms or more.
"These villas tend to have much more demand during the period on account of large family bookings," he added.