Where travel agents earn, learn and save!
News /

Hurtigruten Expeditions has a brand new name
The new HX brand and logo will be fully implemented starting in December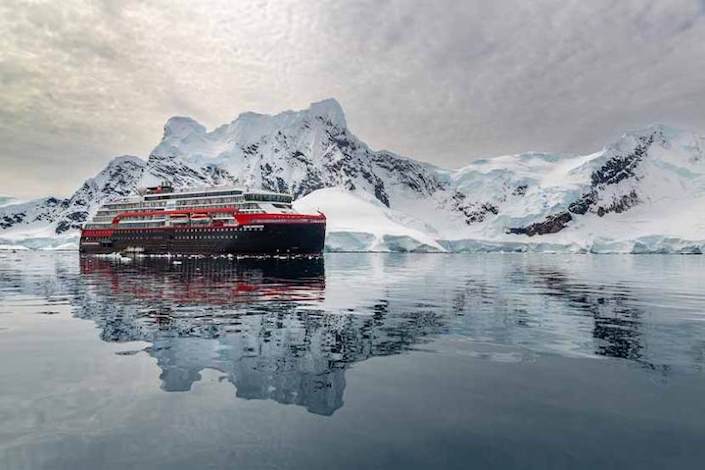 Hurtigruten Expeditions has announced a global rebrand that includes a brand new name.
From December 2023 onward, the adventure travel brand by Hurtigruten Group, which launched the world's very first expedition cruise in 1896, will be known as HX, a name that honours its origins.
The new HX brand and logo will be fully implemented starting in December, with updates to brochures, websites, and social channels. Livery repainting of the fleet's six ships will commence over the next 18 months.
Hurtigruten Norway, which celebrated 130 years of operating the original Norwegian Coastal Express this summer, will be simplified to just 'Hurtigruten,' the same name as when it first launched in 1893.
Both Hurtigruten Expeditions and Hurtigruten Norway are 100% owned by Hurtigruten Group, forming a portfolio of sustainable travel brands that includes land-based activities such as hotels, restaurants and more through Hurtigruten Svalbard, plus a 25% stake in Ecuador-based Metropolitan Touring.
"The name Hurtigruten is synonymous with travel in Norway, just as it has been a renowned travel brand for over 130 years. Today's evolution of our brand identities is the culmination of the work that started in 2021 when we split the two brands," said Daniel Skjeldam, CEO, Hurtigruten Group.
"HX will remain at the forefront of expedition cruising and sustainable travel as we continue to significantly grow its global presence while strengthening Hurtigruten's iconic position on the Norwegian coast.
"With HX, we are investing in our high-end expedition itineraries to some of the most adventurous, remote places around the world. While we have traditionally been known as the Polar experts, we launched the Galápagos Islands last year, which is already our third most popular destination.
"And we will be the only cruise liner to exclusively sail the West African archipelagos of both Cape Verde and the Bissagos Islands in this year's most exciting new itinerary, which we are launching this fall," Skjeldam added.
In 2020, the strategic separation of the two brands was announced to enhance operational and commercial autonomy for each business, allowing for the delivery of distinctly different guest experiences. Implementation of this separation began in 2021, and earlier this year, Hurtigruten Group completed its internal restructuring to align commercial and support functions with the dedicated ship operations.
The Group also announced a fleet adjustment over the summer, shifting Hurtigruten Expeditions' battery-hybrid-powered MS Otto Sverdrup to Hurtigruten Norway as of January 2024 while redeploying MS Maud to Antarctica due to growing demand. In the 2024-2025 Antarctica season, HX will offer guests more choices than any other expedition cruise company, with 36 departures across eight different itineraries spanning 12 to 24 days.
Source: Travelweek