Where travel agents earn, learn and save!
News /

IHG and Iberostar sign licencing deal for all-inclusive resorts
Sabina Fluxá, Vice-Chairman & CEO, Iberostar Group; Keith Barr, CEO, IHG Hotels & Resorts; Miguel Fluxá, Chairman, Iberostar Group; Gloria Fluxá, Vice-Chairman & CSO, Iberostar Group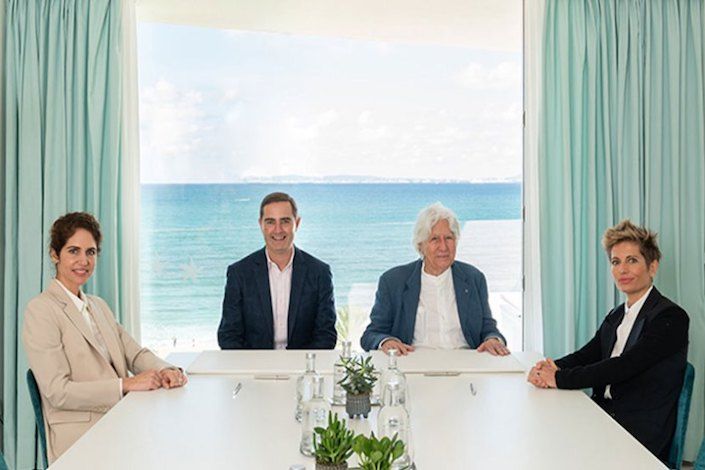 InterContinental Hotels Group (IHG) has answered the call for more all-inclusive options by signing a 30-year licencing deal with Iberostar Hotels & Resorts.
Through this long-term commercial agreement, up to 70 hotels – the equivalent of 24,300 rooms – will be bookable via IHG's system under the Iberostar Beachfront Resorts brand, which marks IHG's 18th brand overall. IHG's global system will increase by up to 3% as a result of the partnership. Iberostar will retain 100% ownership of the 70 hotels, all of which are beachfront properties.
The first Iberostar properties will join the IHG system this December in popular locales like Mexico, the Dominican Republic, Jamaica, Brazil and the Canary Islands in Spain. These include: Iberostar Grand Paraiso (Riviera Maya, Mexico); Iberostar Selection Hacienda Dominicus (Bayahibe, Dominican Republic); Iberostar Grand Rose Hall (Montego Bay, Jamaica); and Iberostar Selection Anthelia (Tenerife, Spain).
Additional properties in Spain, Southern Europe and North Africa are anticipated to join the system throughout 2023 and 2024.
As IHG has less than 20 resort properties in the countries where the Iberostar Beachfront Resorts properties are located, the new agreement significantly increases its resort footprint.
"Guests have told us of their wish for increased choice of resort and all-inclusive destinations within our brand portfolio," said Keith Barr, Chief Executive Officer, IHG Hotels & Resorts. "We are delighted to address that by working with such a well-respected, experienced and like-minded partner as Iberostar, and to see more amazing hotels join our system that continues IHG's growth in so many of the world's most attractive markets and destinations."
Miguel Fluxá, Chairman of Iberostar Group, added: "This strategic alliance will enable Iberostar Beachfront Resorts to benefit from IHG's industry-leading technology, deep skills and global scale. Retaining 10)% ownership of Iberostar allows us to continue to generate differentiation in the hospitality industry with a long-term vision for our employees, clients, tour operators, distribution partner and local communities that have been loyal to us during all these years."
The Iberostar Beachfront Resorts brand will be included in a new 'Exclusive Partners' category in IHG's brand portfolio, alongside its Suites, Essentials, Premium and Luxury & Lifestyle categories.
The total gross revenue of the 70 hotels was approximately US$1.3 billion in 2019. IHG's fee structure will ramp up through to 2025 as the hotels integrate onto its platform. By 2027, annual revenue within IHG's fee business is expected to be in excess of $40 million.
Source: Travelweek