Where travel agents earn, learn and save!
News /

JetBlue commences long-awaited Boston-London Heathrow flights
JetBlue now has four Europe routes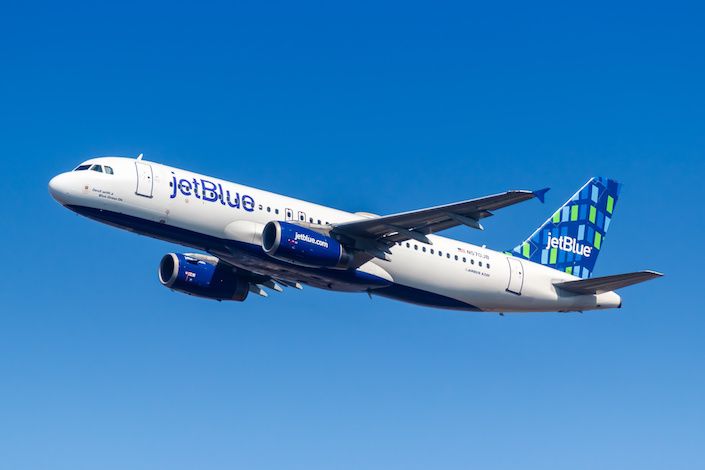 JetBlue has inaugurated Boston to London Heathrow. It is its second Boston-Europe route, joining London Gatwick, which launched last month; Simple Flying was pleased to be onboard the first flight back to the USA. It now has four USA-Europe routes.
Take off: Boston to Heathrow
On September 20th, JetBlue took off from Boston for London Heathrow and landed five minutes ahead of schedule at 06:25 local time. According to Flightradar24, it lasted 6h 2m, around ten minutes longer than carriers that use widebodies. After all, narrowbodies, including the A321LR – which JetBlue uses – cruise slightly slower.
For the first flight, JetBlue deployed N4062J, a 0.2-year-old A321LR delivered in July. I flew this specific registration last month. Like all of its A321LRs, it is a low-capacity, premium-heavy aircraft. With just 138 seats, it has 24 Mint seats (two studios occupying the first row and 22 suites), 24 Even More Space seats, and just 90 in Core.
Its schedule is as follows, with all times local. Notice that it leaves the UK at 08:25. Until September 20th, that was the departure time of JetBlue's New York JFK-bound service. But with the start of Boston, JFK has changed to 14:45.
Boston to London Heathrow: B61620, 18:17-06:30+1 (7h 13m block time)
London Heathrow to Boston: B61621, 08:25-11:21 (7h 56m)
Now four Europe routes
JetBlue's first Europe service was between New York JFK and London Heathrow in August last year. It was joined a month later by JFK to London Gatwick. Its third route – and first from Boston – launched in August 2022, and now the quartet is complete.
Of course, this is just the beginning of its long-haul ambition, which Skift shows may include Africa in the longer term. And while JetBlue previously stated that any new route must (obviously) be able to fill its Mint cabin, some of its Boston-Gatwick and later JFK-Gatwick flights use lower-premium and non-LR A321neos. These have 160 seats and a third fewer Mint suites, offset by 75% more Even More Space seats and 16% additional Core. It's unclear if this is just temporary or whether it marks a shift in its approach. It's likely to be the former.
Currently, JetBlue has 4x daily Europe flights, but soon that'll rise to 5x daily as summarized below:
New York JFK to London Heathrow: 1x daily
New York JFK to London Gatwick: 1x daily, but 2x daily from October 29th
Boston to London Gatwick: 1x daily
Boston to London Heathrow: 1x daily
The sixth airline on Boston-London
Until recently, four airlines had nonstop flights between Boston and London. Now there are six. After a 20-year absence, United resumed the route – possibly as a preemptive strike against JetBlue – in April this year. Then came JetBlue.
Between September 21st and 27th, there are 9x daily flights, the joint highest number ever, last held in 2011. This week, the following operates:
British Airways: 3x daily (Heathrow); A380, B777-300ER, B777-200ER
JetBlue: 2x daily (1x Heathrow, 1x Gatwick)
Delta: 1x daily Heathrow; B767-400ER
United: 1x daily Heathrow; B767-300ER
American: 1x daily Heathrow; B777-200ER
Virgin: 1x daily Heathrow; A330-300 (soon the A330neo)