Where travel agents earn, learn and save!
News /

Oceania Cruises reveals exotic explorations in Asia with newly re-inspired Riviera
Luxury, cuisine and cultural immersion star in expanded 2023-2024 Asia & South Pacific season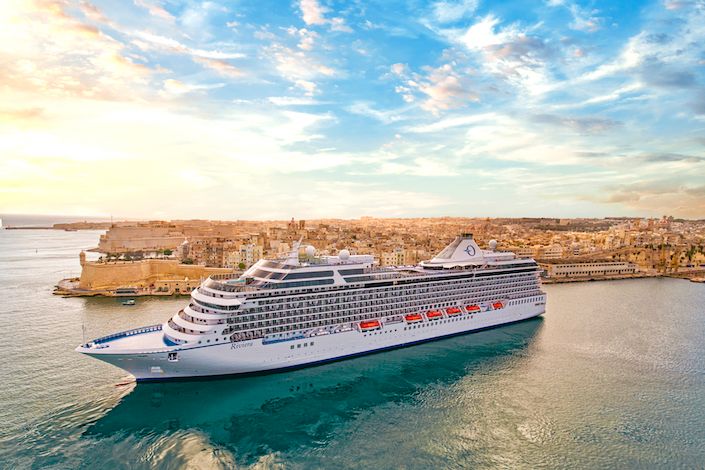 Oceania Cruises, the world's leading culinary- and destination-focused cruise line, announces that the newly re-inspired Riviera will sail in Asia for the first time due to unprecedented guest demand this 2023-2024 season. The 1,238-guest ship will offer travelers the most stylish way to explore some of the world's most breathtaking locales across Asia, putting cultural immersion and culinary excellence at the heart of the travel experience.
Better than new, Riviera will stun in Asia by charting her inaugural season in the region, sailing through Arabia, India, Myanmar, Vietnam, China, Japan, South Korea, Malaysia and the Philippines. Her new season brings 25 unique voyages ranging from 10 to 82 days. Additionally, Regatta and Nautica will greatly expand the line's offerings in the exotic South Pacific, with more opportunities to explore sought-after destinations like New Zealand, Australia and French Polynesia than ever before.
The new sailings have nearly doubled the seasonal availability with 121 itineraries available for bookings across Riviera, Regatta, Insignia and Nautica, cementing Oceania Cruises' position as the leading destination- and culinary-focused cruise line sailing in Asia.
The announcement of Riviera comes after an unprecedented year in luxury cruising with sales exceeding expectations, breaking numerous records.
Riviera's Asia cruises bring imaginative cultural encounters, ancient treasures and so much more. From the Great Wall and Bangkok's Grand Palace to the ethereal seascape of Ha Long Bay and Kyoto's temples and gardens, the sights and landscapes of Asia fill with wonder. The futuristic neon-lit buzzing streets of Hong Kong and Tokyo beguile, along with sacred pagodas and temples, highlighting the Far East's intriguing blend of the ancient and modern.
Guests will also have the chance to explore once-forbidden corners of Asia such as Yangon and more off-the-beaten-path locations like the remote island of Ishigaki in Japan and Hue, a former Imperial city situated on Vietnam's Perfume River. These captivating voyages immerse guests in the best of the iconic attractions of this vast continent but also leave room for the discovery of the unexpected.
Riviera, Re-inspired
Riviera has had a sweeping rejuvenation with all staterooms and suites debuting reimagined, lavish residential comfort with custom furnishings, wood finishes and designer accents radiating Oceania Cruises' signature essence of elegance. Some notable highlights of the reimagined vessel include:
Concierge Level Veranda Staterooms and Veranda Staterooms are the largest standard staterooms afloat at 291 square feet
All staterooms bring a chic, warm and comforting sense of home with sleek restyled bathrooms and novel furnishings
All stateroom bathrooms feature illustrious Italian marble, bespoke fabrics in harmonious tones evocative of painted deserts and tranquil skies, and each shimmer with the modernity of a Milanese townhouse
Riviera's public spaces have all been elevated with plush new carpets and leather-covered armchairs
All the convivial lounges, tony bars and decadent dining venues have been elegantly restyled, elevating social and epicurean experiences while maintaining the home-away-from-home ambiance
The Grand Dining Room reflects a renewed sense of grandeur that radiates from the glistening chandelier, plush carpets and butter-soft leather armchairs
Dining alfresco has been completely revamped with a delightful new trattoria, featuring an array of wood-fired pizzas, succulently grilled Italian specialties, tantalizing salads and indulgent desserts every evening
Incredible Itineraries
Riviera will sail 25 voyages, ranging from 10 to 82 days, offering a raft of destination-rich experiences in ports such as Cochin, India; Yangon, Myanmar; Busan, South Korea; and Phuket and Bangkok in Thailand.
For the first time in Oceania Cruises' history, Regatta and Nautica boast impressive itineraries across the South Pacific and French Polynesia, with more than 20 voyages highlighting some of the most sought-after ports in the region, including Tahiti, Bora Bora, Moorea, Rangiroa and Raiatea. These South Pacific sailings offer a selection of captivating sojourns for travelers, with voyages ranging from 10 to 41 days, including a return to Australia and New Zealand for Regatta; and Nautica sailing through Arabia, India and Southeast Asia.
Sample Voyages:
The 12-day Land of the Rising Sun roundtrip from Tokyo offers an intriguing exploration of Japan on board the meticulously re-inspired Riviera in March and April of 2024. Ports of call include Kagoshima, Nagasaki, Beppu, Hiroshima and an overnight stay in Kyoto (Kobe).
The expansive 72-day Epic Eastern Explorer itinerary, on board Riviera, departing early January 2024, sailing from Mumbai, India, to Tokyo, Japan. This spectacular itinerary guarantees full immersion in this exhilarating part of the world thanks to overnight calls in Male, Maldives; Colombo, Sri Lanka; Singapore, Singapore; Hanoi (Ha Long Bay), Vietnam; Shanghai, China; Saigon (Ho Chi Minh City), Vietnam; Seoul, South Korea; Kyoto (Kobe) and Tokyo, Japan; plus two-night stays in Yangon, Myanmar; Bangkok, Thailand; and Hong Kong, China. Other voyage highlights include Manila, Philippines; Hue and Nha Trang in Vietnam; Phuket, Thailand; and Penang and Kuala Lumpur in Malaysia.
The 34-day Constellation of Islands, from Singapore to Papeete, Tahiti, on board Nautica, departing in late December 2023. Itinerary highlights include an overnight call in Bali, Indonesia; and Bora Bora, French Polynesia plus visits to Papeete, Tahiti, French Polynesia; Darwin and Cairns in Australia; Suva, Fiji; and three days cruising the Coral Sea.
The 14-day Empires of Asia voyage, on board Regatta, sailing from Tokyo, Japan, to Hong Kong, China, in late October 2023. Itinerary highlights include overnight calls in Kyoto (Kobe), Japan; Shanghai and Hong Kong, China; plus visits to Taipei and Kaohsiung, Taiwan; and Japanese ports including Kagoshima and Hiroshima.