Where travel agents earn, learn and save!
News /

Sunset Reef St. Kitts Hotel is officially open for booking
New luxury boutique hotel in the West Indies welcomes global travellers in a private setting with Caribbean sea views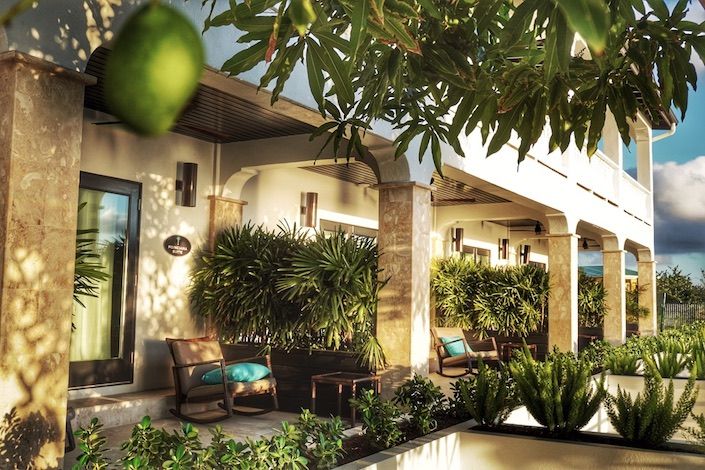 Sunset Reef St. Kitts, known for its sweeping Caribbean Sea views and elegant suites, announced that it has officially opened to the public for online booking.
As the newest hotel to open its doors on the island of St. Kitts this 7-suite property in the village of Trinity is a true escapism experience the travel industry has been looking for. Poised as a sanctuary for those seeking a relaxing & intimate setting, the landscape offers visitors a chance to explore the island during the day and return to their amenity-rich room in the evening delivered in an unhurried and stylish way.
Defining a new epitome of understated luxury in the West Indies, Sunset Reef St. Kitts' light and airy accommodations range from one-bedroom to four-bedroom suites - all with direct sunset views overlooking the Caribbean Sea. With monther-of-pearl inlaid showers, king-sized beds, and cool-to-the-touch local coral flooring, the room's serene aesthetics feels a world away from the bustling and hurried lives visitors hail from.
"We recognize attention is being drawn away from supersized resorts and towards boutique stays with a focus on curated guest experiences. Knowing there is never a queue or a crowd and that every detail is taken care of is the type of holiday destination we were looking for but couldn't find, so we created it." says Shareholder Mr. Fletcher.
A uniquely and immensely valuable feature of the hotel is its use of geothermal energy technology. Adding to its sophistication and defined by their standards as 'sustainably conscious' the system provides enough natural energy to heat various water sources such as showers and the stunning outdoor infinity pool, as well as cool down the rooms with as much air conditioning as one requires. Add these state-of-the-art features to its reverse osmosis quadruple filtered drinking water, originally sourced from the rainforest, systems in each room, and you have a never before seen formula that reduces the property's ecological footprint and enhances visitors' peace of mind.
Easily accessible from the United Kingdom, Canada, and the United States the island of St. Kitts boasts a vibrant culture and unspoiled black volcanic sand beaches. Al fresco dining at the on-site restaurant, Drop Anchor Grill, serves up a uniquely global menu using locally sourced ingredients, and delights and surprises the palate with every meal.
To solidify their commitment to creating immersive experiences guests have areas to explore such as a fitness room with Peloton bikes, a yoga deck, a cold plunge pool, and a full array of in-room spa services. With direct access to the sea reached by walking through native gardens and passing the SandBar - their private beach bar on your way to snorkeling or other water sports, you can feel how the spaces were created to evoke a sense of curiosity and celebrate wellbeing.
Situated in the Lesser Antilles and perched at the base of a volcano, the hotel was designed to blend together timeless island elements, providing guests with a unique tropical oasis experience one craves while looking to get away… They've been waiting for you.