Where travel agents earn, learn and save!
News /

Inaugural sailings for Oceania's Allura to open for sale September 13
Photo: Allura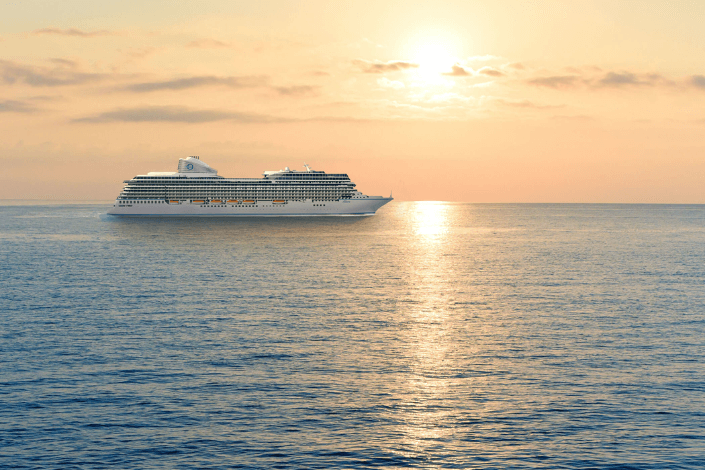 Oceania Cruises has unveiled the inaugural season sailings for Allura, its newest ship, set to debut in summer 2025.
In total, the Allura's inaugural season will feature 26 sailings that span more than 92 destinations on various seven- to 34-day voyages. They are now available for viewing at OceaniaCruises.com, and are open for sale.
As Oceania's second 1,200-guest Allura Class ship, following sister ship Vista that launched in May 2023, Allura will boast standard staterooms measuring 291 square feet, larger than many entry-level suites on ultra-luxury cruise lines.
Calling throughout the Eastern Mediterranean, Allura's maiden voyage will be a seven-day journey from Athens to Istanbul, departing on June 8, 2025. Calls will include iconic cities and lesser-known gems like Cádiz, Cagliari, Messina, Palma de Mallorca, Palermo and Cinque Terra. Guests will also enjoy overnight stays in Istanbul, Monte Carlo, Quebec City, Montreal and New York.
From its summer season in the Med, Allura will then sail to Canada and New England for an extended season in North America before its premiere winter season in the Caribbean.
Onboard highlights include a new Crêperie serving freshly made crêpes and waffles to order in the morning, and a new social hub atop the ship that brings together The Library and digital center. Guests will also find onboard five specialty dining venues (at no extra cost), including new signature restaurants Ember and Aquamar Kitchen, a wide array of enrichment programs such as art classes and Cellar Master's Wine Pairing Luncheons, as well as a Culinary Center and accompanying Chef's Studio, where Chef Instructors will share their culinary secrets.
A sample of Allura's inaugural voyages include the following:
Maiden voyage, Athens-Istanbul (June 8, 2025, 7 days): Athens (Piraeus), Greece; Santorini, Greece; Heraklion (Crete), Greece; Rhodes, Greece; Bodrum, Turkey; Ephesus (Kusadasi), Turkey; Canakkale (Troy), Turkey; Istanbul, Turkey
Flourishing Rivieras, Rome-Athens (July 29, 2025, 17 days): Rome (Civitavecchia), Italy; Florence/Pisa/Tuscany (Livorno), Italy; Portofino, Italy; Palma de Mallorca, Spain; Barcelona, Spain; Saint-Tropez, France; Monte Carlo, Monaco; Cinque Terre (La Spezia), Italy; Rome (Civitavecchia), Italy; Sorrento/Capri, Italy; Santorini, Greece; Rhodes, Greece; Antalya, Turkey; Bodrum, Turkey; Patmos, Greece; Athens (Piraeus), Greece
Explorer's Grand Crossing, Rome- New York (August 27, 2025, 34 days): Rome (Civitavecchia), Italy; Salerno, Italy; Taormina (Sicily), Italy; Valletta, Malta; Ibiza, Spain; Valencia, Spain; Barcelona, Spain; Provence (Marseille), France; Cannes, France; Monte Carlo, Monaco; Provence (Marseille), France; Barcelona (Tarragona), Spain; Palma de Mallorca, Spain; Cartagena, Spain; Málaga, Spain; Gibraltar, UK; Tangier, Morocco; Seville (Cádiz), Spain; Portimão, Portugal; Lisbon, Portugal; Funchal (Madeira), Portugal; Ponta Delgada (Azores), Portugal; Horta (Azores), Portugal; St. John's, Newfoundland; Halifax, Nova Scotia; Bar Harbor, Maine; Boston, Massachusetts; Newport, Rhode Island; New York, New York
Maples & Manors, New York- Montreal (October 18, 2025, 11 days): New York, New York; Newport, Rhode Island; Boston, Massachusetts; Portland, Maine; Saint John (Bay of Fundy), New Brunswick; Halifax, Nova Scotia; Sydney, Nova Scotia; Saguenay, Quebec; Quebec City, Quebec; Montreal, Quebec
Holiday Havens, Miami- Miami (December 21, 2025, 14 days): Miami, Florida; Oranjestad, Aruba; Willemstad, Curaçao; Kralendijk, Bonaire; St. George's, Grenada; Kingstown, St. Vincent; Bridgetown, Barbados; Roseau, Dominica; St. John's, Antigua; Philipsburg, St. Maarten; Miami, Florida
Source: Travelweek