Where travel agents earn, learn and save!
News /

Intrepid launches earthquake appeal, kicks off Flash Sale
Photo: SARC response Lattakia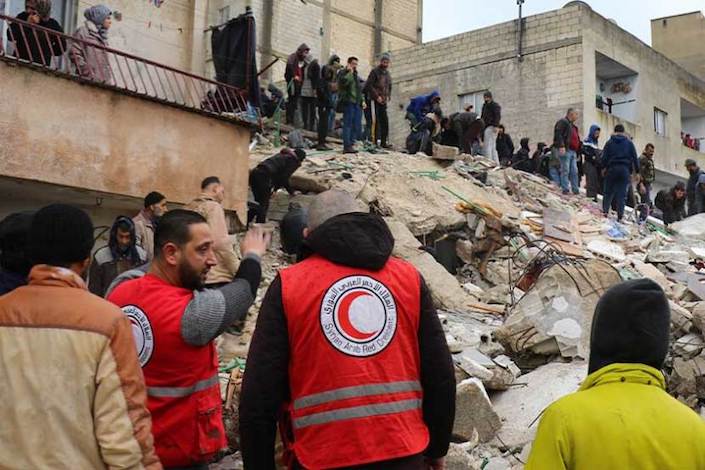 Intrepid Travel has launched efforts to support immediate relief and aid in Turkey and Syria following yesterday's devastating earthquake.
More than 4,300 people have been killed in both countries in the 7.8 quake that collapsed thousands of buildings yesterday, February 6.
In response, Intrepid Travel has launched an emergency appeal and committed AUD$100,000 through its not-for-profit, the Intrepid Foundation, to support relief and rescue efforts. The company is also donating all profits from bookings made on trips to Turkey until April 30, 2023 to support the appeal.
The Intrepid Foundation has partnered with the Australian Red Cross to ensure funds are effectively allocated to provide immediate and longer-term relief to communities affected by the earthquakes.
Intrepid will be dollar matching donations to the Türkiye and Syria Earthquake Appeal up to AUD$100,000 while covering the foundation's administrative costs, ensuring 10)% of donations go directly to the Australian Red Cross. To donate, click here.
"This earthquake has devastated communities across southeastern Turkey and Syria. Most of us can only imagine the trauma of this scale of disaster but through supporting this appeal, we can help communities that need it the most by providing basic emergency first aid and items such as blankets and tents to help house families during the middle of winter," said Biheng Zhang, General Manager of the Intrepid Foundation.
Today, Intrepid Travel operates 30 tours in Türkiye and has 25 local team members based out of their Istanbul office. The company only had one group in the country at the time of the earthquake, who are all safe and were on the opposite side of the country from the earthquake's epicenter at the time.
Turkey became the company's second destination to offer trips in 1990 and a Turkish mosque even features in the company's logo. It has remained one of Intrepid's most beloved destinations, welcoming over 25,000 Intrepid travellers in the past decade alone.
Intrepid Travel's 2023 Flash Sale kicks off today in North America with savings of up to 25% on sustainable small group adventures.
Flash Sale Now On
Intrepid Travel has also launched its 2023 Flash Sale in North America, featuring savings of up to 25% off sustainable small group adventures.
Running from February 7-13, 2023, the sale applies to trips departing between March 1 and December 14, 2023 (unless otherwise specified).
There are three offers included in the sale:
Offer #1: February Sale 25% off Small Group Adventures & Sailing, departing April 1-June 30:
– All Basix trips (includes 18-29s)
– Original style trips in Cuba, Belize, Costa Rica, El Salvador, Guatemala, Mexico, Nicaragua, Panama, Bulgaria, Czech Republic, Hungary, Poland, Romania, New Caledonia, Papua New Guinea, Vanuatu, Canada, USA, Samoa, Argentina, Bolivia, Brazil, Chile, Colombia, Ecuador, Peru, Bhutan, India, Nepal and Sri Lanka
– Sailing
Offer #2: February Sale 25% off Adventure Cruising trips
– April 1-October 31, 2023
– Galapagos (Grand Queen Bea and Grand Daphne trips), June 1-October 31, 2023
Offer #3: Feb. Sale 15% off International Travel, for travel dates between March 1-December 14, 2023
Sample itineraries included in the sale include the eight-day Athens to Santorini (priced from $3,542), the nine-day Costa Rica Experience (from $1,662), the 14-day Best of Italy (from $5,303), the eight-day Premium Morocco Highlights (from $2,202), and the eight-day Montenegro Sailing Adventure from Dubrovnik (from $3,097).
For more information go to intrepidtravel.com/ca.
Source: Travelweek